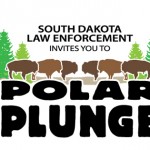 It's that time of year again, the time when Aberdeen residents along with those from surrounding communities, take the pledge to be "Freezin' for a Reason". The 2015 Polar Plunge is this weekend, Sunday, April 19th at Wylie Park. If you're looking for reasons to take the plunge, according to the Polar Plunge website, there are over 2,000….the Special Olympic South Dakota athletes. Detective Mark Miller with the Aberdeen Police Department explains where the money goes.
The Polar Plunge is an annual fundraiser presented by South Dakota Law Enforcement as a part of the Law Enforcement Torch Run events to raise money for Special Olympics. Last year, South Dakota had over 1,700 Polar Plunge participants statewide and over $470,000.00 was raised for Special Olympics South Dakota. Detective Miller says there is still time to sign up.
For more information, contact Mark Miller at 626-4047, or log on to www.plungesd.org.