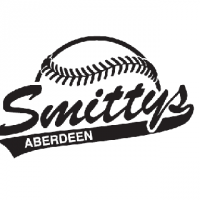 ABERDEEN, SD – The hot Aberdeen Smittys squad got cooled off by Brookings last night at Fossum Field, handing Aberdeen their 4th & 5th home losses of the season. The Bandits survived in the opening contest, 5-4, for the Region win, and they held Aberdeen in check in game two, 6-1.
Aberdeen trailed 5-0 in game one, but got within one thanks to a 3R 7th. That's as close as the Smittys would get, however. Aberdeen was out-hit by Brookings, 10-5, in the loss, with Sam Van Orman driving home two runs, and Jesse Babcock plating one. The loss went against Joey Wollman who struck out three in 6.1IP.
The Smittys fell behind right away in game two, w/ Brookings putting three on the board in the T1. Aberdeen's Nick Goeman drove in the team's lone run home in the B3 to make it 3-1, but a 3R 6th put things away for the Bandits. Brookings out-hit Aberdeen again, this time by an 11-5 mark. Goeman wound up w/ 2H for the hosts. Van Orman went 5.2inn on the mound in the loss.
Aberdeen is now 15-18 overall, and they finish at 4-4 in Region play, tied w/ SF Post 307. Watertown is the top seed in next week's tourney at 5-3. The Smittys will wrap up the regular season when they host Pierre for 2g on THU.
In the only other game of note TUE, SF Post 307 downed Yankton, 11-7.