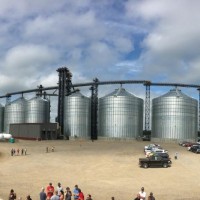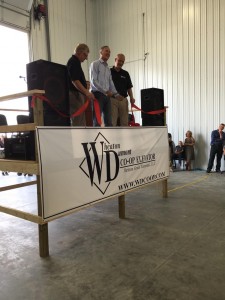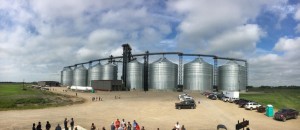 BRITTON, S.D. (HubCityRadio.com) – The Britton Grain Terminal was the talk of Northeast South Dakota on Monday.
The facility held its grand open complete with a ribbon-cutting ceremony by South Dakota Governor Dennis Daugaard. The Wheaton-Dumont Coop Elevator, located one mile south of Britton, was praised for its increased speed and space.
Daugaard said the terminal is a welcome addition in a state that focuses so much on agriculture.
The facility will be able to utilize two major railroads, the Canadian Pacific and Burlington Northern, making it unique compared with most other terminals across the state, according to Daugaard.
The Britton Grain Terminal is 1,000 feet long and 192 feet tall. It has the capacity to hold more than 4.5 million bushels of upright storage and 2.5 million bushels of temporary storage. Cost of the project is $32 million for the terminal which takes up 300 acres of land. The new will facility will be capable of receiving grain at 60,000 bushels per hour and loading 120-car shuttle trains at 80,000 bushels per hour.
A big part of the project was improving rail line to allow for quicker shipment. That will in turn lead to better prices.
Philip Deal, general manager for Wheaton Dupont, said what was once considering the biggest weakness of the terminal will now become its biggest strength.
Vaughan Maudal, board member of Wheaton Dupont, thanked those in attendance for their patience through the years and said times are about to change.
The new terminal should make things much easier for farmers, who will no longer have to leave their trucks when they bring in loads. Card readers and display monitors throughout the facility will control the flow of grain and data, and then provide that same information to the truck operator.
Daugaard said the Britton line will be a great addition to the entire state.