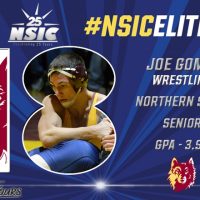 BURNSVILLE, MN (NSUWolves.com) – Joe Gomez of NSU was named the 2016-17 NSIC Elite 18 Award winner for wrestling. Gomez becomes the third Wolf to earn the Elite 18 Award this season as he joins Sasha Hovind (women's indoor track & field) and DJ Pollard (men's basketball).
Gomez is a senior majoring in biology and holds a 3.93 grade point average. The Graham, Washington native earned his third All-American honor this season after he finished in seventh place at the NCAA Wrestling Championships. Gomez, who was 27-8 this season, finished his career with 107 total victories, becoming just the 11th wrestler in NSU history to record 100 career victories.
As part of the NSIC 25th Anniversary celebration, the NSIC Elite 18 Award was instituted to recognize the true essence of the student-athlete by honoring the individual who has reached the pinnacle of competition at the NSIC Championship level in his or her sport, while also achieving the highest academic standard among his or her peers. The NSIC Elite 18 award is presented to the student-athlete with the highest cumulative grade-point average participating at the finals site for each of the NSIC's 18 Championships.