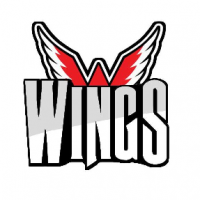 ABERDEEN, SD (AberdeenWings.com) –
FRIDAY
MN Wilderness
Aberdeen Wings  6-2
The Wings & Wilderness were tied at two through two frames, but Aberdeen dropped a four on the board in the 3rd period for the 6-2 win.  MIN went 2/5 on the power play to just 1/7 for Aberdeen, but the Wings out-shot their visitors, 41-24.  Joey Strada finished w/ two goals & one assist; Tyler Bossert scored once and helped twice; and Colin Raver, Carson Dimoff, and Nolan Sullivan had a goal apiece.  Carter Roo helped out w/ three assists as well.
SATURDAY
MN Wilderness  4-3 (OT)
Aberdeen Wings
The Wings couldn't quite finish off a weekend sweep of the Wilderness, getting edged out in OT SAT at the Odde, 4-3.  MIN scored the 1st two goals of the game before Aberdeen tied it up on goals from Carter Roo & Colin Raver in the 2nd period.  In the 3rd, MIN re-took the lead in the 6th minute, but Carson Dimoff knotted things at three about halfway through the frame.  MIN then ended things about 3min into bonus hockey.  Aberdeen piled up 35 shots on goal to just 24 for MIN.