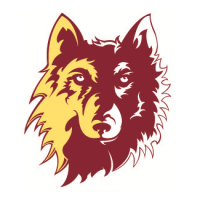 Aberdeen, S.D. (NSUWolves.com) – The Northern State University wrestling team notched their first home dual win of the season defeating Dickinson State 25-21 on senior night. The Wolves improved to 2-12 overall following the win.
The match was knotted up at 9-all following a big win by Griffin Hieb in the 149-pound match. Hieb faced off against Jacob Berg and quickly got to work in the first. After a takedown by Berg to open the period, the freshman notched a reversal and 4-point nearfall grabbing the 6-2 lead. Berg brought things within two in the second period, and battled in the third. He opened the final two minutes of action with a takedown and 2-point nearfall. Hieb was able to come away with the escape, however Berg again took the Wolf down to the mat. With the clock ticking down, Hieb rolled Berg for the second time in the match, notching a reversal and 4-point nearfall to secure the 13-11 victory.
Tanner Olson broke things open for the Wolves in the 157-pound bout. The senior faced off against Matt Carlson and notched a victory by fall at 2:37, after a takedown and 4-point nearfall in the opening seconds of the match. The pin gave the Wolves a 6-point lead with five matches remaining.
Blake Perryman and Kaden Campbell kept the wins rolling in at 165 and 174 pounds notching technical fall victories. Perryman defeated Caden Haugen with a score of 17-0, notching two takedowns, one reversal, two 2-point nearfalls, and one 4-point nearfall. Campbell downed Logan Wagoner in an 18-2 victory, notching two takedowns, two 2-point nearfalls, two 4-point nearfalls, and an escape. The junior also added a point of riding time as the match ended in the third and final period.
Despite losses at the next three weights, Northern sealed the victory. NSU will conclude the regular season next Tuesday and Wednesday at Minot State and U-Mary. Dual start time is set for 7 p.m. each night.