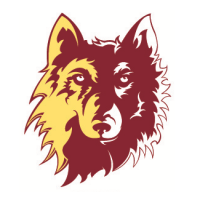 Cedar Rapids, Iowa (NSUWolves.com) – Blake Perryman capped off his Northern State wrestling career with a third place finish at the NCAA National Championships. The senior went 3-0 on Saturday to become the 16th wrestler in program history to finish in the top-3 of his weight class.
"My goal for this weekend was to be a national champion, and even though I didn't achieve that, I'm happy with the outcome that I got," noted Perryman. "I took it one match at a time and it ended up paying off for me. In my last match, I knew I had to leave it all on the mat and finish off my career strong."
Perryman opened the day with an 11-5 decision victory over Devin Austin of Pitt-Johnstown. He kept things rolling in the consolation semifinals with a 4-2 comeback victory over Rodney Shephard of UNC Pembroke. It was tied at 2-all with just seconds remaining on the clock, when Perryman took is shot and notched the takedown.
The Dakota Dunes native then headed to the third place match, facing off against Tyler Mann of Ouachita Baptist. The two wrestlers were scoreless through the first period, with Mann taking the 1-0 lead at the end of the second. Perryman quickly notched an escape, tying things up at 1-all. For the second time on the day, the clock clicked down and Perryman shot notching a last second takedown and the win.
Perryman finished the season with a 25-4 record overall and a third place finish from the NCAA National Championships at 165 pounds. The senior earned NSIC All-Conference first team honors, after going undefeated in the league.