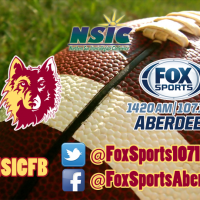 IRVING, TX (NSUWolves.com) – The National Football Foundation & College Hall of Fame announced on Wednesday the 2018 members to the NFF Hampshire Honor Society, with Wolves senior Brian Sumption being named to the list. The Honor Society is comprised of college football players from all divisions of play who each maintained a cumulative 3.2 GPA or better throughout their college careers.
Nominated by their respective schools, members of the NFF Hampshire Honor Society must have completed their final year of playing eligibility in 2017, graduated players, who have remaining eligibility but will not return to collegiate play (e.g. declared for NFL Draft or retired from football), may also be nominated, achieved a 3.2 cumulative grade point average throughout entire course of undergraduate study, and met all NCAA- or NAIA-mandated progress toward degree requirements, while being a starter or significant contributors throughout the 2017 season.
Sumption started all 11 games for the Wolves in his senior campaign. He tallied 29 tackles, 22 solo and seven assisted, while adding four interceptions for 76 yards and four pass breakups.