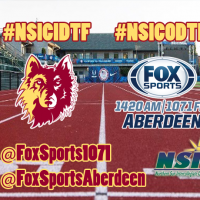 SIOUX CITY, IA & KEARNEY, NE (NSUWolves.com) – The Northern State University track and field teams competed from both the Sioux City Relays and the UNK Loper Invite on Thursday. The throws squad headed to Kearney, while the full team competed from Sioux City. The throwers tallied eight top-10 finishes, while the full crew notched one race win, seven top-10 finishes, and three finals qualifications.
In her first race back in the saddle, senior Sasha Hovind won the women's 5000m with a time of 17:22.79. She defeated her next closest opponent by over one minute. Hanneke Oosterwegel advanced to finals in the 100m hurdles, finishing fifth with a time of 14.59 in prelims. The junior went on to finish second overall in the 400m hurdles with a time of 1:02.36.
Madison Barnes grabbed a top-4 finish in the 400m dash, crossing the line at 1:00.21. On the men's side, Itoitz Rodriguez took eighth with a time of 50.73.
Bryce Malsam kicked off the running events for the men, qualifying for finals with the sixth fastest time of 15.21 in the 110m hurdles. Malsam moved on to the 400m hurdles, finishing fifth overall with a time of 57.73. Kelson Brewer led the attack in the event, placing third with a time of 55.73.
Trey Tiefenthaler kicked things off in the field events, finishing third overall with a 12.98m mark in the triple jump.
Tanner Berg led the men in the shot put, finishing eighth with a 14.21m (46-7.50) toss, while Jake Olson finished in tenth throwing 13.50m (44-3.50). Jordan Menken led the women in the shot, finishing sixth with a 13.27m (43-6.50) heave.
The throwers then moved on to the discus, with Olson taking fourth on the men's side. The junior threw 50.50m (165-8.00). Menken notched a top-5 finish, throwing 46.84m (153-8.00). Berg led the team in the hammer, tossing 52.71m (172-11.00) in eighth overall.
David Murphy was back in action, taking third in the javelin with a 49.01m (160-9.00) throw. Macen Andrus was close behind in tenth overall with a 40.36m (132-5.00) toss.
The Wolves continue competition tomorrow from the Sioux City Relays, with competition beginning at 10 a.m. in the field events. Results for the men's high jump, women's triple jump, and men's 200m dash were not available following Thursday competition, and will be included with the Friday update.