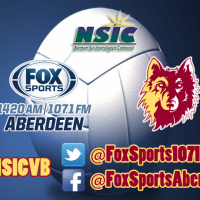 ABERDEEN, SD (NSUWolves.com) – The Northern State University volleyball team will host four camps this summer from the Barnett Center. Registration is currently open for the individual skills camp set for June 11-12, the hitter/setter/libero camp on June 13, the high school team camp June 14-15, and the Little Wolves camp June 21-22. Full camp details can be found below.  All campers can register through the website NorthernStateVolleyballCamps.com.  Camps include instruction from the NSU coaching staff and student-athletes.  Participants will receive training, drills, and feedback to improve their skills and knowledge of the game.
Individual Skills Camp – June 11-12
The individual skills camp is open to grades 7-12 and will run from 1-8 p.m. on June 11 and 8 a.m. – 5 p.m. on June 12. Cost of the camp is $180 for overnight campers (includes room and all meals) and $130 for commuter campers.
The camp will focus on progression for all basic skills in the game of volleyball. The primary focus of this camp is technical development of individual skills.  Participants will be placed on teams for competition. You will be grouped with campers of similar ability level. This camp is fun way to improve on all your volleyball skills.
Hitter/Setter/Libero Camp – June 13
The hitter/setter/libero camp is open to grades 9-12 and will run from 9 a.m. – 8 p.m. on June 13. Cost of the camp is $140, which includes both lunch and dinner on the day of camp.
This camp is designed for the ADVANCED player who wants to progress to the next level. Participants will be instructed by specific positions (middle hitters, outside hitters, setters or defensive specialists). The camp will provide specific instruction and drill development of hitting, blocking, setting and defense.
High School Team Camp – June 14-15
The high school team camp will run on June 14 and 15 with games scheduled throughout the day. Cost of the camp is $225 per team, with each additional team from the same school costing $180. Housing is not included with the team camp, however participants can contact Wolves volleyball for a full list of hotel options in the area. Teams will be guaranteed a three match minimum each day.
Little Wolves Camp – June 21-22
The Little Wolves camp is open to grades 3-6 and will run from 5:30-7:30 p.m. on June 21 and 22. Cost of the camp is $50 per player. Little Wolves camp is a fun camp to introduce and improve the fundamental skills used in today's game to young kids. It's a great way for kids to learn the basics of volleyball.