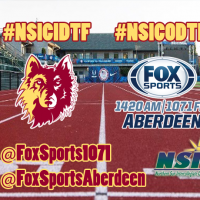 ABERDEEN, SD (NSUWolves.com) – Northern State University Director of Athletics, Josh Moon and Deputy Director of Athletics/Cross Country and Track and Field sport administrator, Zach Flakus have announced the hiring of Patrick Heckroth as the head coach for the Wolves cross country and track and field programs. Heckroth joins the Wolves after three seasons at the University of North Carolina at Pembroke where he was the Associate Head Track and Field Coach.
Heckroth holds certifications as an IAAF Level V Elite and USATF Level 3 for sprints/hurdles/relays, and USTFCCCA Specialist (jumps) coach. He is a member of both the USATF and USTFCCCA.
In his three seasons at UNCP, Heckroth ran the day-to-day operations of the track and field program including practice coordination, meet day operations, home meet management, and student-athlete recruitment. Heckroth coached one NCAA All-American, five NCAA Qualifiers, three All-Academic performers, 31 NCAA provisional qualifiers, 26 school record holders, 12 Peach Belt Conference Champions, and 45 All-Conference selections as the primary coach for the sprints, jumps, and hurdles. This past season, Heckroth was named the Regional Assistant Coach of the Year. UNC Pembroke won the 2017 Peach Belt Men's Track and Field Championship, and finished as the conference runner-up in both 2017 (women) and 2018 (men).
He began his career as a volunteer assistant coach, working with the sprints, jumps, and hurdles, at Fresno State from 2011-13. He helped develop three USA Junior National Qualifiers in the 400 hurdles, seven NCAA Division I Preliminary round qualifiers, two Mountain West Conference champions and numerous all-conference selections.
Heckroth then moved on to spend two seasons as the assistant coach at Valparaiso University as the primary sprints and hurdles coach and recruiting coordinator. He mentored one student-athlete (Nicole Zehel) to the Horizon League title in the steeplechase, while his sprinters and hurdlers also shattered four school records and establish 26 top-5 marks in program annals.
Heckroth is a 2011 graduate of the University of Northern Iowa where he received a Bachelor of Arts in Movement and Exercise Science. He was a member of the Panther track and field program, specializing in the 400 hurdles. Heckroth also holds a Master of Arts in Sport Psychology from California State University, Fresno and Master of Science in Sport Administration from Valparaiso University.
Patrick and his wife, Amanda were married earlier this spring and will reside in Aberdeen. He will assume his duties with the program on July 22.