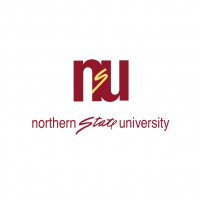 ABERDEEN, SD (NSUWolves.com) – Northern State Director of Athletics, Josh Moon has announced the promotion of Adam Leach to Athletic Department Assistant. Leach moves into the full-time role after spending the previous academic year as the department's Athletic Operations Graduate Assistant.
In his role, Leach will be responsible for all office operations for the department, athletic facilities scheduling, various report management, and assist with purchasing requests, game operations, and special events.
In his graduate assistant role, Leach assisted in the game day operations and promotions for the 15 intercollegiate athletics programs. In addition, he helped in the management of the Wolves Team Store, coordinating the scheduling, training, and management of employees, as well as product inventory needs and ordering.
During his coursework at NSU, Leach held internships with US Youth Soccer, the Aberdeen Wings, and the Minnesota Vikings. As the Marketing and Operations Intern with the Minnesota Vikings, he assisted with the day-to-day operations and marketing at the 2016 Verizon Training Camp in Mankato, MN.
Leach is a 2017 graduate of Northern State with a Bachelor of Science in Sports Marketing and Business Administration, and he is a Wolves track and field/cross country alumnus. He is a member of the school record-holding 4x800m relay team, which was set this year. Leach was named the 2016 NSU HPER Student of the Year, and he was an NSIC Myles Brand Award recipient. He is currently working towards a master's degree in Sports Performance and Leadership.