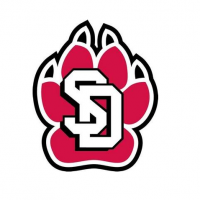 VERMILLION, SD (GoYotes.com) – The Univ. South Dakota men's golf team has turned to a familiar face in John Vining to be the new head coach. Vining has spent the past five seasons as an assistant coach for the Coyote men's and women's golf programs.
Vining, a native of Sioux Falls, has been an integral part of the Coyotes' success including the 2015 Summit League Championship and coaching the 2018 Summit League Golfer of the Year – his brother Tommy Vining. He also oversaw several school records broken in the 2017-18 season including team scoring average (294.5), low team tournament round (271), low team tournament score (840) and low individual performance (-7, 64).
Between the men's and women's teams at USD, Vining has coached 11 all-Summit League performers, nine individual medalists and five team tournament victories. Among the all-league performers, his brother, Tommy, is a two-time first team all-league selection, the 2017 Summit League Newcomer of the Year and the 2018 Golfer of the Year.
Vining was on staff in 2015 when the Coyotes won the Summit League Championship and advanced to the NCAA Regional for the first time in program history. The same season, then head coach Nick Hovden earned Coach of the Year honors from the Summit League.
Academically, Vining has supervised a program with a perfect APR score for both the men's and women's squads.
As a student-athlete for the Coyotes, Vining was named to the American Sky All-Academic Team and Summit League Academic Team. He received the Coyote Character Award during his senior season in 2012. He graduated from USD in 2013 with a bachelor of science in physical education with endorsements in health and coaching.