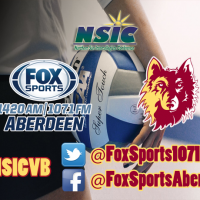 Moorhead, MN (NSUWolves.com) – The No. 2 Northern State University volleyball team rolled to the 12th sweep of the season defeating MSU Moorhead on the road. The Wolves downed the Dragons with set scores of 25-15, 25-17, and 25-17, improving to 19-1 overall and 11-1 in the NSIC.
The Wolves hit .343 in the match, recording a match high 47 kills, 47 assists, 53 digs, and eight aces. They also added five team blocks, while holding the Dragons to a .147 hitting percentage on defense.
Laura Snyder and Morgan Baufield led the team with 14 and 11 kills respectively. Baufield hit a team leading .786, while Snyder was second on the team hitting .444. Hailey Busch and Sally Gaul followed with nine and eight kills respectively, while Jenna Reiff notched four.
Ashley Rozell served up 46 assists, averaging 15.33 per set. The junior also recorded one kills, one ace, six digs, and a team high four blocks. Baufield also led the team at the net with four blocks, while Reiff recorded one.
Bry Goar led the defense with 16 digs, averaging 5.33 per set, while Jaiden Langlie added 11. Goar led the team from the service line as well with a career high four aces. Baufield added two aces of her own, while Busch tallied one. Lexi Boesl recorded seven digs, followed by Busch with five and Baufield and Gaul with four and three respectively.
Northern returns to action Friday evening for a 6 p.m. match from Wachs Arena against the visiting Wildcats of Wayne State.