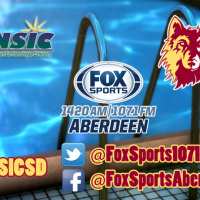 BURNSVILLE, MN (NSUWolves.com) – For the 4th time this year, Northern State senior Hannah Kastigar has been honored as the NSIC Swimmer of the Week.
Quick Hits on the Wolves
– Hannah Kastigar picked up two individual wins against U-Mary Friday evening in the 200 IM and 200 fly. Kastigar picked up another "B" cut finish in the 200 fly with a time of 2:04.24.
– Josie Gillund picked up a race win in the 100 freestyle with a time of 55.68.
– Shayna Asuncion picked up her first win of the season in the 200 breaststroke.
– The team of Murdock, Maida Walters, and Josie Gillund, and Hannah Kastigar picked up the second straight week with a relay victory 400 freestyle.
– The Wolves as a team picked up five race wins and 15 top-three finishes in the dual against U-Mary.
NSIC Swimmer of the Week – Hannah Kastigar, SR, Aberdeen (SD)
– Picked up race wins in the 200 butterfly, the 200 IM, and part of the 400 freestyle relay team that finished first
– Her time in the 200 butterfly was under the "B" cut time by one second, she finished the race with a time of 2:04.24
– Her time in the 200 IM was less than one second away from the "B" cut line, she finished with a time of 2:06.05
– She ran to a 23rd place finish at the NSIC Cross Country Championship on Saturday morning.
– Named NSIC Swimmer of the Week for the fourth time this season (9/9/18, 9/16/18, 9/23/18)