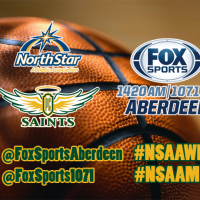 ABERDEEN, S.D. (PCSaints.com)  – The Presentation College Saints men's basketball team soared past the Wolfpack of Oak Hills Christian College in the opening night of the Annual Isreal-Strong Memorial Tournament sponsored by the AmericInn of Aberdeen. The Saints defeated Oak Hills 91-67 and improve to 3-4 on the year with the win. The Saints will take on Dallas Christian College in the championship game of the tournament on Friday starting at 5:00 p.m.
How It Happened –
The Saints jumped out to an 11-point lead after 12 minutes of play thanks to buckets by Elijah Coleman (JR/Aurora, CO) and Vincent Eugene (FR/Spring, TX). However, Oak Hills stayed disciplined and went on an 8-2 run in the final 1:38 of the first half to cut the Saints' lead down to five.
The biggest swing of the night came during the opening minutes of the second half as the Saints outscored the Wolfpack 24-3 to jump out to a 22-point lead. The Saints knocked down five three's from Mychal Deas (SR/Inglewood, CA) (2), Damien Luna, and Tayton Maher(SO/Rapid City, SD) (2) in a row to power their 24-point run. The Saints continued their offensive attack as they extended their lead up to 29 points with 4:16 left on the clock and would ultimately defeat the Wolfpack 91-67 for their third win of the season.
Jalonni McCorvery led the Saints with his third double-double of the season with game-highs of 21 points and 13 rebounds. Teammate Elijah Coleman knocked down 13 points in the win, while Antwan Johnson (JR/Bessemer, AL) and Tayton Maher led the bench with 15 and ten respectively.
As a team, the Saints shot 52.9 percent from the floor, 32.1 from distance and 71.4 percent from the foul line and added 49 rebounds, six steals, and 22 assists.
Up Next –
The Saints will take on Dallas Christian College – who defeated Nebraska Christian College 98-97 earlier that day – in the championship game starting at 5:00 p.m. The game can be heard on KSDN 930/102.1.