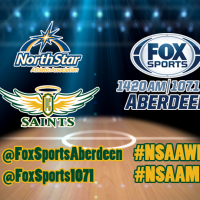 ABERDEEN, SD (PCSaints.com) –
FRIDAY
Dakota St. Univ.
PC  81-71
The PC WBB team forced 22 TOs and had just 12 of their own in an 81-71 win over Dakota State Friday.  Each team shot about 45%, but the Saints were more efficient from downtown (6/13 to 6/23).  Victoria Stewart led the Saints w/ 20p; April Hudelson turned in a dbl-dbl w/ 15p & 12r; Tone Oglesby hit for 14p; and Allison Cox finished w/ 12p.  Ex-USF player Taylor Volesky led the Trojans w/ 18p.
Postgame thoughts of Coach Nelson…
SATURDAY
Bellevue Univ.  61-51
PC
The PC WBB team dropped its home finale on Saturday, 61-51, to Bellevue.  The Saints committed seven more TOs in the loss (18-11), which led to eight more shots & eight more FTA for the Bruins.  Victoria Stewart was the lone PC player in dbl-figures w/ 11p.  Four BU players had dbl-digit points, led by the 11p of Laura Jurek.
Postgame thoughts of Coach Nelson…